| | | |
| --- | --- | --- |
| | The Ustica Connection | |
---
Newsletter of the San Bartolomeo Society Apostolo of New Orleans
Inaugural Issue - 26 August 2001
Claiming Louie:
Louis Prima's Italian Heritage
By Chris Caravella



Louis Prima

Louis Prima was one of the most incredible and versatile figures in US entertainment history. He was at the same time an innovative musician and composer, infectious and comic entertainer, and a shrewd businessman. For nearly five decades, he was able to remold himself to the musical tastes of the time and rise to the top of the entertainment charts. His life and career are well documented in the 1989 book "Just a Gigolo: The Life and Times of Louis Prima" by New Orleans author Garry Boulard, and in the 1999 documentary "Louis Prima: The Wildest" produced by Don McGlynn and Joe Lauro. Yet in neither of these great resources or in many other articles written on Prima is much accurately revealed about his Italian roots. This may seem incredible for such a famous entertainer who was always closely associated with being Italian. Nativity, however, is one aspect of Italian-American heritage that has been easily lost to time as each successive generation strove to be accepted as Americans. Through careful genealogic research, this article reconnects a great American figure, Louis Prima, with his proud Italian heritage
| | |
| --- | --- |
| Leon Prima | Louis Prima was born December 7, 1911 in New Orleans. He was the second son and second child of Anthony Prima and Angelina Caravella. First son, Leon, also achieved success as a musician and made a significant contribution to the musical tradition of New Orleans. Leon played trumpet and started several clubs on Bourbon Street in New Orleans, the most successful of which was "The 500 Club". Many of Louis' band members, including Sam Butera, were discovered in Leon's clubs. The Primas also had two daughters. Elizabeth became a nun in the order of the Sisters of St Joseph and took the name, Sister Mary Ann. Daughter Margaret died early in childhood. |
Angelina Caravella was born in Ustica on January 1, 1889, but she would live nearly all of her life in New Orleans. She was the first daughter and third child of Luigi Caravella and Margherita Valenti. Luigi and Margherita were married in Ustica on August 2, 1884. Margherita was a native of Palermo but Luigi was Usticese and the Caravella family had a long history on Ustica extending two, perhaps three, generations back to the last, permanent habitation of the island in the 1760s. When Angelina was not yet a year old, her family immigrated to the United States arriving in New Orleans on January 7, 1890 aboard the SS Plata. 1893 is the last year Luigi appeared in the public records of New Orleans. No record of his death has been found but in 1895 Margherita had remarried. On September 1, 1906 at the age of 17, Angelina Caravella married Anthony Prima in New Orleans. On the marriage certificate, her place of birth is listed as Ustica. Her nativity was remembered and recorded even though she had lived on Ustica less than a year and apparently lost her father as a very young child.
Anthony Prima was a native of New Orleans. He was born on March 9, 1887, the second son and third child of Leonardo Prima and Elisabetta Antiochia. The Primas immigrated to the United States on July 13, 1882 arriving in New York aboard the SS Elysia. Leonardo was a native of Salaparuta and Elisabetta was born in Castelvetrano. They were married in Salaparuta on August 11, 1877. It is interesting to note that the town of Salaparuta is the origin of an impressive musical legacy in New Orleans. Nick Larocca, bandleader of the "Original Dixieland Jazz Band" and Leon Roppolo, clarinet player, were also descended of families from Salaparuta.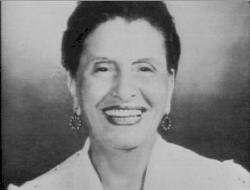 Angelina Caravella
All documentation used to establish the genealogical lineage of the Prima family will be submitted to the Italian-American Renaissance Foundation in New Orleans and the Study and Documentation Center in Ustica. Both of these institutions serve as libraries of our common heritage. Future researchers will now have a source for an important link that ties the Prima family with their Italian roots, and the towns of Salaparuta and Ustica can rightly lay their claim to one of America's greatest entertainers.
(Photo credits: Louis and Leon Prima - The Italian-American Renaissance Foundation Library, Angelina Caravella - Cover of the Louis Prima album "Angelina")